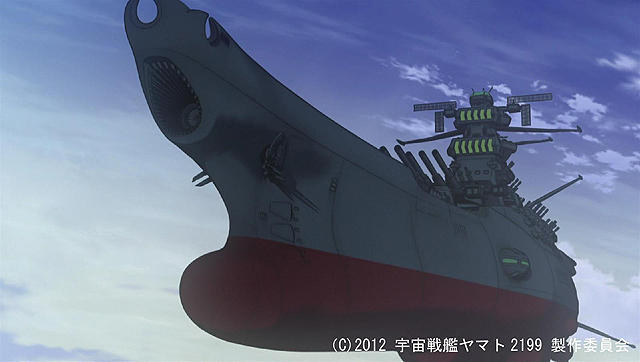 It is confirmed today that The Era of Space Battleship Yamato: The Choice of 2202 A.D., a new compilation film based on the two installments of the latest Space Battleship Yamato franchise – Space Battleship Yamato 2199 and Space Battleship Yamato 2202: Warriors of Love – will get theatrical screenings in 36 theaters in Japan from January 15, 2021, for a limited time of three weeks. 
A special limited-edition Blu-ray disc will be sold in the theaters from the day of the film's screening, and its digital version will be also available on Amazon Prime Video and other platforms.
The Era of Space Battleship Yamato is a 120-minute film edited by Harutoshi Fukui (Mobile Suit Gundam UC novel author), who serves as the series composition writer for 2199 and 2202, from a new angle. The space exploration that was started by the Apollo moon landing in 1969, the voyage to Iskandar in 2199, and the Battle of Gatlantis in 2202 – all those stories will be retold with newly recorded narration. Some newly-produced anime footage will be also added. It was originally announced to be produced as a compilation film of 2202, but it has been changed to include some major episodes from 2199 as well. 
A teaser visual newly drawn by the acclaimed illustrator Naoyuki Kato (Legend of the Galactic Heroes) is posted on the web.
— 宇宙戦艦ヤマト2202製作委員会 (@new_yamato_2199) September 25, 2020
---
Meanwhile, the franchise's next installment Space Battleship Yamato 2205: Aratanaru Tabidachi/The New Voyage has been in the works for a release in 2021. When the new chapter of the reboot project based on the classic anime series was announced in October 2019, it was originally scheduled to be released in the fall of 2020, but has been postponed.
The story of Yamato 2205 is set three years after 2202, and is expected to be produced as a remake of the 1979 TV special Space Battle Ship Yamato: Aratanaru Tabidachi/The New Voyage. In place of 2199's Yutaka Idebuchi (general director) and 2202's Nobuyasu Habara, Kenji Yasuda (Shugo Chara!, Macross Delta) newly serve as director. 
---
Source: "The Era of Space Battleship Yamato: The Choice of 2202 A.D." official website
© Yoshinobu Nishizaki/Space Battleship Yamato 2202 Production Committee